Sound Insulation Damping Mat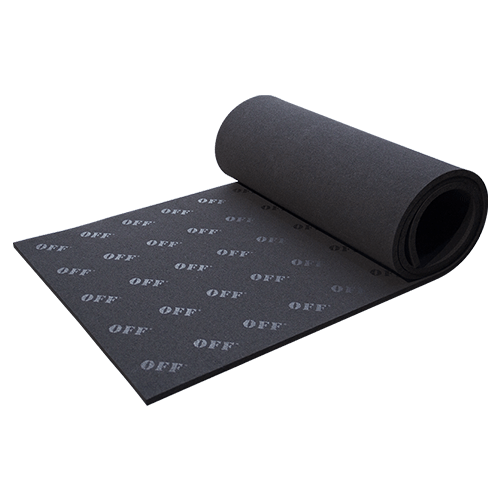 Model No.: 
G3P / G6P / G12P
Sound insulation damping mat is the new generation acoustic product molded with environmental-friendly SBR/PU GLUE base materials by SBR foaming molding. The microcavity blind hole flexible material has advantageous physical properties of high elastic resilience, damping property and adhesion and generates good acoustic characteristic of sound energy and vibration wave transmission loss.
The product adopts the full laying type application design to ensure that it generates the even and huge surface supporting force, not only effectively promoting the anti-vibration frequency width, but also forming an airborne sound insulation layer of 20dB on the structure surface, fully exerting the material properties and really achieving the structure free vibration absorption and sound insulation effects.
Damping mat has the properties of blind hole to ensure that it does not absorb water to reduce the possibility of corrosion, thereby being particularly suitable for the wet area and the area with multiple wet sites. OFF vibration damping and sound insulation mat cannot be degraded, has a long service life, resists molds and inhabits the bacterium from growing. OFF vibration damping and sound insulation mat have no harmful gas emitted, thereby being green and environmental-friendly.
Best suit applied to the hotel carpet lining or residence wood floor damp proof mat, thereby effectively increasing the sound insulation index of the floors and absorbing the footstep transmitted downwards and the noise caused by impact.
G3P – 16000mm(L) x 1000mm(W) x 3mm(T)
G6P – 8000mm(L) x 1000mm(W) x 6mm(T)
G12P – 4000mm(L) x 1000mm(W) x 12mm(T)
G3P – 16m²
G6P – 8m²
G12P – 4m²
G3P – 1.95kg/m²
G6P – 6.5kg/m²
G12P – 13.1kg/m²
G3P – 19kg
G6P – 32kg
G12P – 32kg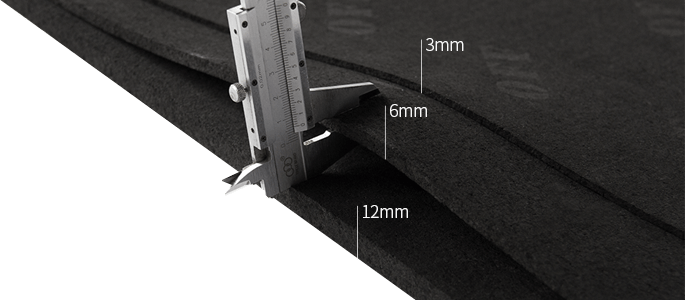 Sound insulation damping mat is easy and convenient to cut and lay, and 3 thicknesses of 3mm, 6mm and 12mm adapt to more different standard requirements. With the application of excellent support and damping, sound insulation damping mat meets the requirements of sound insulation and noise reduction for multi-story buildings.

Sound insulation damping mat is agglutinated between two gypsum boards as the light inter wall or room-in-room structure board to obviously improve the structure-borne sound reduction index and vibration loss.
Applied to the tile-laying or laminate floor base mat of the residence, hotel guest rooms, private theaters, HiFi music rooms, piano rooms, recording studio, KTV night clubs to form an intercepting layer between the floating ground and the base structure layer and cut off the transmission path of sound energy and vibration wave to the base structure.