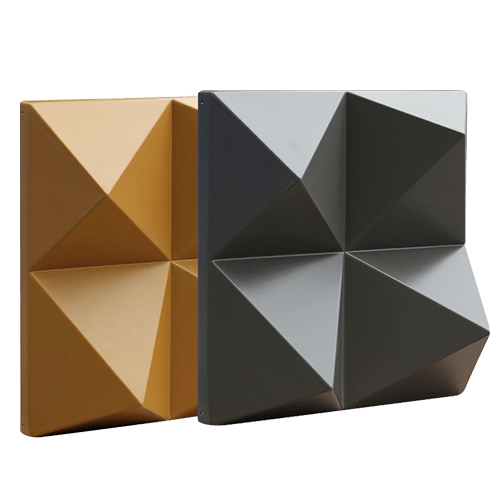 Stylish conical diffuser that eliminates flutter echoes and standing waves
If you're looking for an elegantly designed diffuser that can effectively get rid of standing waves and flutter echoes in your space, the Pyramid 4Q is a clear frontrunner. Its conical surface can reflect waves in different directions instead of just one while absorbing low frequencies through its built-in cavity.
With the Pyramid 4Q, you'll get a space that has the perfect balance of sound energy as well as sense of space. This makes for a lively sounding acoustics that plays like music to your ears.

Acrylonitrile butadiene styrene (ABS)
PU paint / water-based paint / flocking
600mm (H) x 600mm (W) x 200mm (T)

Environmental performance:
PYRAMID4Q conical surface diffuser follows the design of 1/4 unsymmetrical reflection phases. When the sound waves get in contact with the smooth PYRAMID4Q conical surface diffuser, the waves will be reflected in the planned directions instead of in all the same direction to effectively reduce the standing waves and sound flutter on the wall surfaces. Such a cavity under a non-equilateral structure is able to absorb low frequency via diaphragm effect which effectively improves sound clearance.
After the sound waves are reflected by the surfaces of PYRAMID4Q conical surface diffuser, the sound energy will be reflected in different directions with varied phase differences. Such irregular reflected sound with equal energy will provide a sense of space to the human ears, and increase the "brightness" of sound for diffusion of high and medium frequencies. The sound energy is reflected evenly in square double angles.
0.57/m² [>100 Hz – <5 KHz]